LE TEMPS PRESSE
Teaser for the show Le Temps presse, by Jos Huben, Guy-Loup Boisneau, Violeta Cruz
With Guy-Loup Boisneau
Music Violeta Cruz
Libretto Guy-Loup Boisneau
Staging Jos Houben
Sound design Grégoire Durande
Voice over (Amélie) Laura Malvarosa
Produced by Association derrière le bruit
Co-production and co-direction La Pop et le Nouveau théâtre de Montreuil – CDN
Sponsored by la Fondation SACD –  Beaumarchais
If information shapes us, can we shape information? Can we process its vocabulary, techniques and identity, explore, sculpt and hijack it? Such is the challenge that colombian composer Violeta Cruz, musician and actor Guy-Loup Boisneau and belgian metteur en scène Jos Houben set themselves when they took over the gimmicks of a national radio station.
Every morning, radio journalist Guillaume is at the microphone to announce the news. One day, his voice and intonation, usually perfectly mastered, begin to gradually fall apart. Words and sentences collide, and slide into a strange sound poetry opening the doors to what he is trying to hide.
A poetic and theatrical immersion inside the voice and psyche of this journalist, Le Temps presse weaves a musical radio where languages merge: to the rhythm of radio jingles, words become music, music becomes discourse.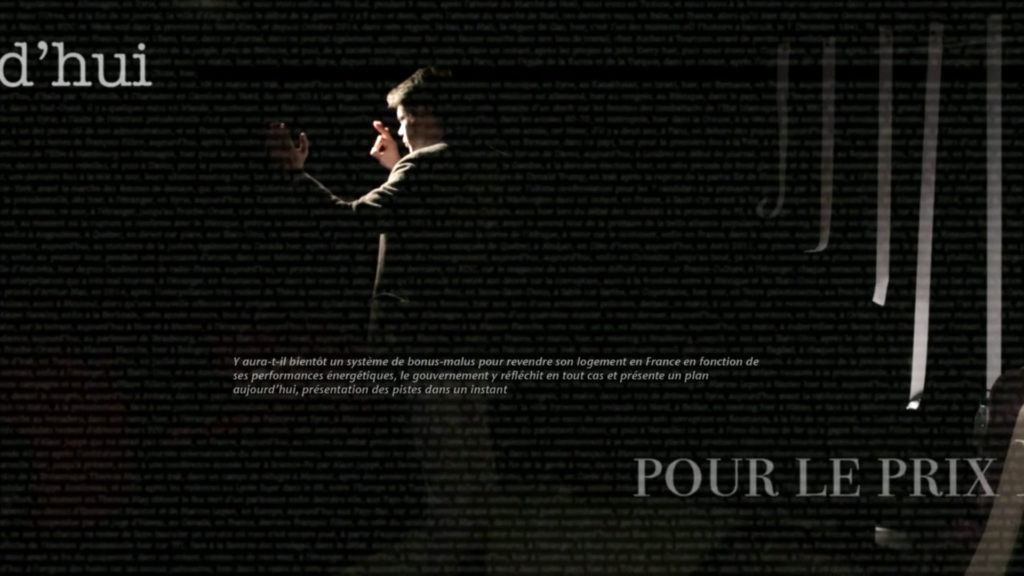 What do we hear then? The journalist shapes his or her voice so that we can listen to it every day without getting tired, and trust it. Beyond the informations, the intonation and the voice are an essential part of the semantic and emotional dimension of this morning ritual.
By collecting nearly two years of radio news, the Temps presse team draws on the vocabulary and grammar of the information and reveals a trajectory of our modern world, and even the state of our societies. This is how these cheerful poets open the doors of the radio studio and play with a world both familiar and surprising.